Mon 4th Dec
10
results from
10
Matches
WIRRAL VETS 2023/24
WINTER PAIRS EVENT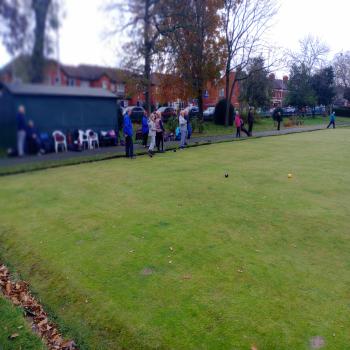 NEWS PAGE
WE GOT UNDERWAY AT 10.30 IN END TO PLAY CATCH-UPS WITH EACH TEAM PLAYING TWICE.
IT WAS VERY COLD TO START WITH BUT THE TEMP ROSE & EVERYONE GOT ON WITH THEIR GAMES.
ON 18th DEC WE PLAY OUR CHRISTMAS TEAM HANDICAP EVENT STARTING AT 11am FOR 4 TEAMS.
THIS IS HOW IT WORKS;
WE SPLIT DIVISION UP TO 5 TOP & 5 BOTTTOM TEAMS, THEN TEAM 4 PLAYS TEAM 5 IN EACH TO REACH THE TOP 4 IN THE SEMIS.
THEN TOP TEAM PLAYS TEAM 4 AND 2 PLAYS 3 IN KNOCKOUT TO GET TO THE FINAL, ALL PLAYED IN ONE DAY.
EACH TEAM IS HANDICAPPED IN THEIR SECTION BASED ON LEAGUE POSITIONS & THEN A HANDICAP FOR THE TEAMS IS REACHED.
THERE IS £360 TO BE PLAYED FOR AND EVERY TEAM WILL GET MONEY ON THE DAY PAID OUT AFTER THE FINAL.
THE PAYOUTS WILL BE;
WINNER OF TOP SECTION WILL GET £90
RUNNERS UP TEAM WILL GET £70
TEAMS 3RD & 4TH WILL GET £30
TEAM IN 5TH PLACE WILL GET £20
WINNER OF BOTTOM SECTION WILL GET £40
RUNNERS UP TEAM WILL GET £30
TEAMS IN 3RD & 4TH WILL GET £20
TEAM IN 5TH WILL GET £10
THERE WILL BE MINCE PIES & SOS ROLLS ON FOR ALL PLAYERS THAT DAY.
WE START THE SEMIS AT AROUND NOON SO BE THERE EARLY GUYS TO GET GOING.
NEXT WEEK THE 11th DEC WE START AT 10.15AM TO CATCH UP A BACK GAME FOLKS.
email me if you need info; j.beecham2@ntlworld.com
jack
CODES;
AMIGOS......2255
ARTICS.......8040
BARBAR'S...4910
BUBBLES....9050
ININITE......2710
MOODY'S....9056
SODS.........7726
TINKERS.....8285
TOCKS........1052
UPSTARTS...3412
Important Dates:
Latest information: