Welcome to the Wrexham & District Short Mat Bowls Website
2023/24 season
Important Dates:
Latest information:
Fri 1st Dec
Good Evening,
The National Triples Entry form is now on the website ready to download, it can be found in the drop
down list on the left hand side of the main page under the heading NATIONAL TRIPLES ENTRY FORM (1)
and NOT under the link titled Triples Entry Form.
If anyone has any problems then please do not hesitate to contact me.
Kind Regards
Peter
Fri 1st Dec
Good Evening,
The National Triples Entry form is now on the website ready to download, it can be found in the drop
down list on the left hand side of the main page under the heading NATIONAL TRIPLES ENTRY FORM (1)
and NOT the link titled Triples Entry Form.
If anyone has any problems then please do not hesitate to contact me.
Kind Regards
Peter
Thu 30th Nov
Hi all
Final update for Sunday 3rd December.
I require everyone to turn up between 9.30 and 9.45 as we need to start promptly at 9.45 (or as near as possible please!) The mats need to be put in place too! There will be seating along one side of the hall so once you've got your shoes changed, please make sure that bags are stored under the seats out of the way of players walking past.
There are two groups of 3 so everyone gets a minimum of 2 games. However, we will be having two extra mats out for the two teams (1 from each group) that will be sitting out each session, so that they can have a practice on the spare mats and get a feel for the number of ends, or even have a few ends against each other. We will be playing 9 (nine) ends and this should take approx. 72 minutes per game. I'm hoping we can keep to schedule and don't overrun each game or we won't be having any breaks in between . . .
The teams that sit out in each session should make good use of refreshment time, i.e. get your lunch when you can, and remember that food SHOULD NOT BE BROUGHT INTO THE PREMISES. If you bring your own lunch, then you will have to go out to the car to eat it. Food is available on the premises from 10.30am to 3.30pm, after which time the café upstairs will close.
Once the group games are finished we will have a session whereby the two group winners play off against each other for the final first and second positions. At the same time, the runner's up from the two groups will play off for the final third and fourth positions, as we need four teams to represent Wrexham down at Llandrindod.
I know I've said this before but I have a habit of repeating myself as I always get someone emailing/texting me to find out what is happening, even though I've tried to explain it in detail.
Those who qualify can get county stickers for their bowls from me, if they haven't got them already.
Also, I need to know if there are any more entries for the singles heat at Plas Madoc on 10th.
So far I have 16 entries, but I will bring a list with me so that players can confirm their intention to play and maybe others will enter if they haven't already.
Anyway, we can discuss this more on Sunday. If I've missed anyone out please could you pass these details on to them for me please.
I look forward to seeing you all then.
Regards
Moira
Thu 30th Nov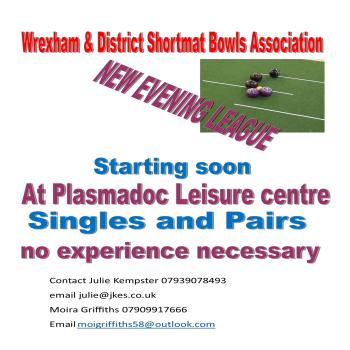 Wed 29th Nov
Tuesday Afternoon League
You may have noticed that in the game between Trevor Ramblers & Isycoed Rollers on 28th November 2023, a Trevor Ramblers player had played in two different groups, because one of the team memers due to play was late arriving.
I realise that this could happen when the Captain has set up the team and it all goes haywire, because a player doesn`t turn up until late.
So can I please ask all Captains to make sure that all players are at the venue ready to play their game on time.
I realise that all clubs are very good, but sometimes ( like now) mistakes are made.
We have let it go this time, because the game was lost by the fault pair.
Penalty points may have to be applied if teams persist in doing this.
Wed 29th Nov
IMPORTANT NOTICE
Foot faulting
There have been a few incidents lately of players not standing properly on the mats and foot faulting
during games.
Most times when this happens the player's bowl usually has a positive impact when it gets into the head
and can alter the score quite dramatically.
Players should make sure their foot is TOTALLY on the mat (not over the end or side, not even by a
millimeter) and should be TOTALLY inside the delivery lines (again, not touching them at all!). Players
who step forward when bowling are usually the guilty ones as when they stand with their toe near the
front of the mat, it usually goes over the end as they step forward.
Team captains (or preferably an umpire if present) should call a fault and stop the bowl before it reaches
the head.
Any team members, sitting out can warn their team who are bowling at the time, so as to stop any faults
occurring.
I know this might sound petty, but we play to the British Isles rules…
I didn't make the rule, but I will make sure it is adhered to.
Moira
Wed 22nd Nov
CHRISTMAS DRINK AND QUIZ
ROY BEBBINGTON FROM JOHNSTOWN, HAS ARRANGED A CHRISTMAS DRINK AT THE SUN INN IN RHOS,
ON THURSDAY 14TH DECEMBER 2023 AT 2.00PM.
THERE WILL ALSO BE A QUIZ, TO KEEP YOU ALL ENTERTAINED.
IF IT`S ANYTHING LIKE LAST YEAR, YOU WILL ALL BE IN FOR A TRULY ENTERAINING AFTERNOON.
REGARDS
PETER KEMPSTER
Wed 22nd Nov
GRESFORD BOWLING
THE WEDNESDAY PRACTICE SESSIONS AT GRESFORD SHORT MAT BOWLING CLUB, WILL CLOSE ON WEDNESDAY 13TH DECEMBER 2023,
AND RE-OPEN AT 1.00PM ON WEDNESDAY 03RD JANUARY 2024.
THANK YOU
PETER KEMPSTER
pp Francis Brady
Tue 21st Nov
COUNTY TEAM
HI EVERYONE,
WE ARE RUNNING ASSESSMENT GAMES FOR ANY PLAYER WHO IS INTERESTED IN PLAYING FOR THE COUNTY TEAM.
IT WILL BE FOR A COUPLE OF HOURS ON SUNDAY 26TH NOVEMBER 2023 FROM 10.00AM TO 12.00PM AT JOHNSTOWN.
WE LOOK FORWARD TO SEEING YOU ALL THERE.
REGARDS
PETER KEMPSTER
COUNTY TEAM SELECTION COMMITTEE
Fri 10th Nov
Good Morning All,
Our County team is in jeopody due to the fact that we have lost some players due to personal reasons.
We were unfortunately in this postion a few years ago, and we had to pull the team out of County competitions.
After a long struggle and hard work, we managed to ressurect the team and eveyone, including other Counties, were adsolutely delighted with what we had achieved.
So we are now looking for new players to join our team,I know that we have got some very good players
that are capable of playing in the team, so if anyone is interested could you please send your names to myself or Moira as soon as possible, so that we can arrange a County trial as soon as possible.
Thank you All
PLEASE REMEMBER YOUR COUNTY NEEDS YOU
Kind Regards
Peter Kempster
(County Selector)
Wed 8th Nov
IMPORTANT MESSAGE TO ALL TEAM CAPTAINS
Good morning all,
Can all team captains please make sure that all their team details are correct.
During one of the matches played yesterday (7th November) a players name was entered twice for the same game.
Though i can accept that it could have been a mistake, i must stress that it can cause a real headache for admin and opposing captains to get it sorted.
It is the responsibility of the home captain to make sure that all names and scores are correct prior to posting.
Incidently, all captains can alter the names and scores in their relevent games for up to 24 hrs after the match (just as in outdoors) after which time you would have to contactact myself.
If anyone has any problems etc,regarding the website please do not hesitate to contact me.
Regards
Peter Kempster
(Admin)
Tue 7th Nov
Open Competitions
Hi All,
Here are the reports from the two recent open competitions held at Johnstown. . .
Last week's triples competition had a few upsets and I can only apologise for my part in those
mistakes.
Julie and Peter ran the competition on my behalf and had a headache from the start. However I
believe everyone enjoyed their games, even though they overran.
Well done to the winners, Anthea, Peter and Mike and to the runner's up Geoff, Doug and Roy.
The Open pairs was very well attended with five teams of players from further afield.
The games were played well and the final was a bit of a cliff-hanger. Well done to Chris and Carys
from Montgomery who managed to pull it out of the hat, beating Andy and Freda on the very last
end. A truly outstanding performance from all concerned.
Moira
Sun 22nd Oct
GOOD MORNING EVERYONE,
IN READINESS FOR THE NEW SEASON WHICH STARTS ON THE 24TH OCTOBER 2023, HERE ARE A COUPLE OF REMNDERS.
1. ALL MATCHES START AT 1.00PM, EXCEPT GRESFORD WHO HAVE TO START AT 12.30 PM SHARP, AS THE HALL HAS A ANOTHER BOOKING AFTER THE BOWLS.
2. FARNDON WILL BE PLAYING ALL THEIR HOME GAME AT HOLT.
AND ALL THE VERY BEST FOR THE 2023/24 SEASON.
THANK YOU
PETER
Thu 24th Aug
BARBARA EDWARDS
IT IS WITH VERY DEEP SADNESS THAT I HAVE TO REPORT THE PASSING THIS MORNING IN HOSPITAL OF THE LOVELY BARBARA EDWARDS AGED 88 YEARS, AFTER A SHORT ILLNESS.
AS YOU ALL KNOW BARBARA PLAYED FOR ST MARGARETS FOR MANY YEARS AND HAD WORKED TIRELESSLY WITHIN SHORT MAT BOWLS ASSOCIATION.
I`M SURE THAT YOU ARE GOING TO MISS HER, I KNOW I SHALL. BUT THERE IS ONE THING FOR SURE WE WILL ALL REMEMBER HER.
FROM WREXHAM AND DISTRICT SHORT MAT BOWLING ASSOCIATION, WE SEND SINCERE CONDOLANCES TO ALL BARBARA`S FRIENDS & FAMILY.
REGARDS
PETER KEMPSTER
CHAIRMAN W&DSMBA