WIRRAL VETS 2023/24
WINTER PAIRS EVENT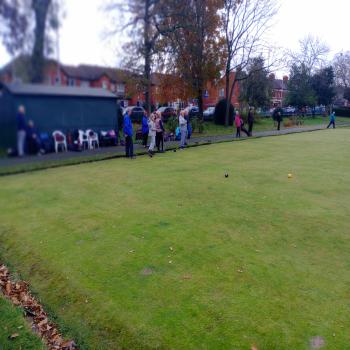 NEWS PAGE
WE GOT UNDERWAY AT 10.30 IN END TO PLAY CATCH-UPS WITH EACH TEAM PLAYING TWICE.
IT WAS VERY COLD TO START WITH BUT THE TEMP ROSE & EVERYONE GOT ON WITH THEIR GAMES.
THIS IS HOW IT WORKS;
GUYS, ALL CHANGE, DEBBIE REMNDED ME HOW SUCCESSFUL OUR CHRISTMAS COMP WAS LAST YEAR.
SHE WAS RIGHT AND WE WILL DO THAT AGAIN THE SAME WITH 5 TOP & 5 BOTTOM TEAMS ROND ROBIN
WE ALL NOW TURN UP AT 10.30 THAT DAY AND IT WILL BE BETTER FOR US ALL.
WE PLAY 4 GAMES EACH TEAM TO 11UP WITH EACH TEAM GETTING MONEY FOR THEIR FINISHING POSITIONS
THE PAYOUTS WILL BE;
WINNER OF TOP SECTION WILL GET £80
RUNNERS UP TEAM WILL GET £65
TEAMS 3RD WILL GET £45
TEAM IN 4TH WILL GET £30
TEAM IN 5TH PLACE WILL GET £20
TOP GROUP WILL HAVE £240 TO PLAY FOR
WINNER OF BOTTOM SECTION WILL GET £35
RUNNERS UP TEAM WILL GET £30
TEAM IN 3RD WILL GET £25
TEAM IN 4TH WILL GET £20
TEAM IN 5TH WILL GET £10
BOTTOM GROUP WILL HAVE £120 TO PLAY FOR
THERE WILL BE MINCE PIES & SOS ROLLS ON FOR ALL PLAYERS THAT DAY.
NEXT WEEK THE 11th DEC WE START AT 10.15AM TO CATCH UP A BACK GAME FOLKS.
email me if you need info; j.beecham2@ntlworld.com
jack
CODES;
AMIGOS......2255
ARTICS.......8040
BARBAR'S...4910
BUBBLES....9050
ININITE......2710
MOODY'S....9056
SODS.........7726
TINKERS.....8285
TOCKS........1052
UPSTARTS...3412
Important Dates:
Latest information: