Welcome to the Southport & District Bowls League 2022-23
WINTER LEAGUE 2022-23

AT BURSCOUGH LEGION BOWLS GREEN
PAIRS LEAGUE FINALS DAY
WOODPECKERS WIN WINTER LEAGUE PLAYOFFS BEATING BOWL to GUINESS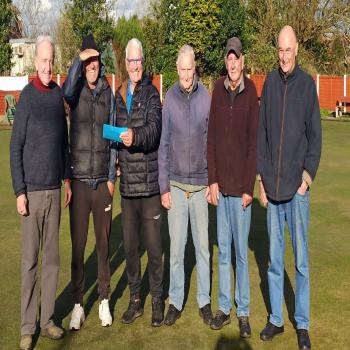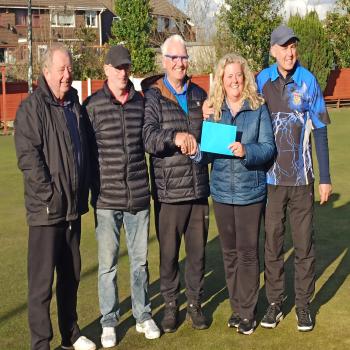 WHAT A BRILLIANT FINALS DAY WAS HAD IN OUR 21st WEEK OF WINTER BOWLS.
THE FOUR TEAMS HAD GREAT WEATHER AND THE BEST WINTER OUTDOOR GREEN IN AREA TO PLAY ON.
THE WOODIES BEAT THE DODGERS TO GET TO FINAL AS DID BOWL to GUINESS BEATING ZETWOOD.
THE FINAL SAW WODIES WIN TWO VERY CLOSE GAMES 21-18 & 21-19
DODGERS FINISHED 3RD COLLECTING GOOD PRIZEMONEY AS DID THE ZETWOOD LADS.
WE ARE NOW OPEN FOR TWO MORE TEAMS FOR NEXT WINTER IF ANY TEAM FEELS THEY WOULD LIKE 21 SATURDAY AFTERNOON GAMES NEXT WINTER.
ENTRIES NOW BEING TAKEN FOR NEXT WINTER TEAMS FOLKS;
EMAIL BRIAN OR JACK AT THE BOTTOM HERE, TO GET IN.
WE ARE HOLDING A ONE-DAY SINGLES ROUND ROBIN EVENT ON SAT 29th JULY AT BURSCOUGH
ITINERY FOR THE DAY;
10am ARRIVE TO BACON/SAUSAGE BAPS
MORNING SINGLES ROUND ROBIN
1pm LUNCH IN PUB NEXT DOOR
AFTERNOON SINGLES DOWN TO A WINNER
5-6pm PRIZE GIVING
COST FOR DAY; £20
THANKS FOR NOW
Jack
RULES TO DECIDE TEAM POSITIONS FOLKS
(THIS LEAGUE IS SET UP SO MANY BOWLERS GOOD AND NO SO GOOD WILL ENJOY PLAYING BOWLS EACH SATURDAY IN THE WINTER AND WITHOUT EVERY BOWLER WE HAVE, THEN WE DO NOT HAVE A LEAGUE PLEASE RESPECT THIS)
1) MATCH WINS COUNTS FIRST.
2) THEN IF THERE ARE TWO TEAMS WITH THE SAME NUMBER OF WINS, IT THEN GOES TO IF THERE ARE ANY DRAWN GAMES WHICH WILL ADD HALF A POINT TO THE WINS COLUMN.
3)THEN IF THERE IS STILL A TIE ,IT IS ON AMOUNT OF GAMES WON IN MATCHES
4) IF THERE IS STILL A TIE, THEN IT WILL GO ON HOW THE TWO TEAMS GOT ON AGAINST EACH OTHER
5) IF IT IS STILL THE SAME, WE THEN GO DOWN TO AGGREGATES OF THOSE TWO TEAMS AGAINST EACH OTHER.
6) THEN AND ONLY THEN WILL ANY TEAM POINTS COUNT FROM ALL MATCHES PLAYED.....PHEW !!
We will be having a top 16 singles playoff this year as we did do last year and due to there being some confusion over the and so this time everyone will know who is in that top group.
There has been confusion in the ranks recently when a team suddenly on the day loses a player or two, and we would like to clear this up for OUR League as some think we need to copy other leagues and that is not the case here.
If a Team is a player down on the day, then they can play one player twice in that game, and IF there is two games on the day, then that extra player CANNOT play twice in two games on the same day if that makes sense.
If there is ONY one game this applies to, then the opposing Team may decide which player plays twice in the only game that day.
Email either of us;
BOOK IN BY EMAIL TO;
anita.meldrum@btinternet.com OR anita.steverich@gmail.com
Important Dates:
Latest information: